G Suite
Employees should be able to work together in an efficient manner. G Suite enables a simplified and friendly approach to achieve this. Our G Suite solution can also be customized per our client's requirements using scripting language . Our team has in-house Google certified G Suite Deployment specialists, Google apps Script top contributors and sales specialist that work closely with clients for addressing their problems and providing world class G Suite enabled solutions.
Accemy helps business transforming to a digital workplace with G Suite. Apps Script lets you do new and cool things with G Suite products like Docs, Sheets, Slides, and Forms. There's nothing to install — code is written in an editor right in the browser, and then scripts run on Google's servers without any extra cost.
We help maximize your investments to G Suite and enable your workplace smart by offering end-to-end, G Suite automation services and support.We have been helping business to automate data and work flows, develop custom web apps, and reduce time consuming tasks using Google Apps Script Development Services.
Our team comprises of certified G Suite deployment experts and Apps Script Top Contributors aka Google developer experts.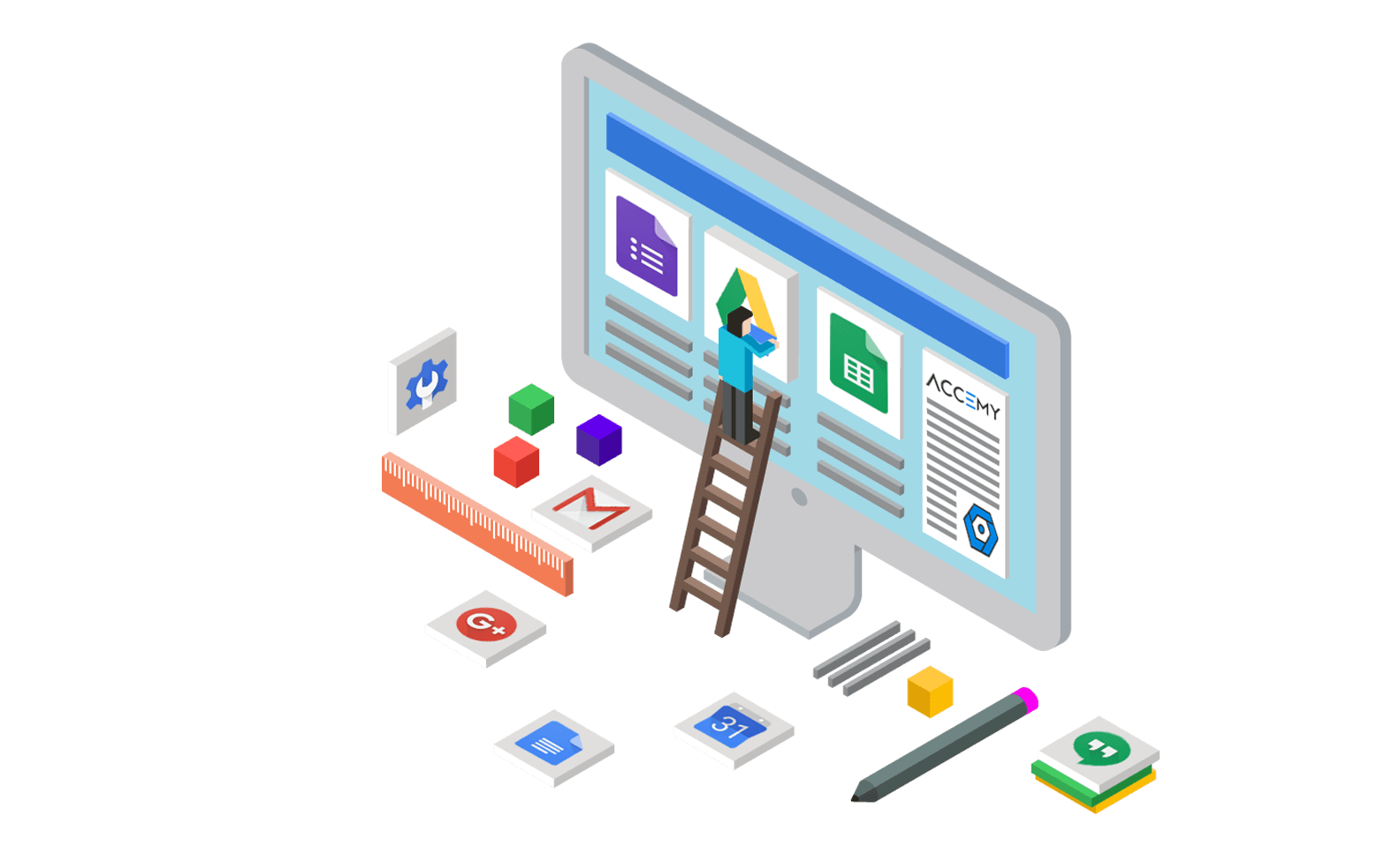 Some of our team highlights:



Google Apps Script Top Contributor/ Google Developer Expert.
Google Apps Developer Blog - Guest Blogger

Google Certified G Suite Deployment Specialist.

Add-ons are third party plugins that take your Google Apps usage to the next level. There is possibility that employee across the organization do similar kind of tasks in Spreadsheet, Docs and Forms. We have been developing various G Suite Add-ons to bring more functionality to Google Docs, Sheets, Slides, and Forms.
Google Apps script tutorial/examples www.googleappsscript.org
Hosting webinars for Totally Unscripted which is Google Apps Script show organized by the community for the community.

Year of Experience: Consulting since 2012.
Domain account setup

DNS records management
Control panel settings
User & groups management
G Suite directory sync

Data migration

Mail: IMAP (server-pull) & user-based tools
Contacts & Calendar: admin & user-based tools, including 3rd party
Docs: user-based docs import, 3rd party tools
G Suite domain creation

MX record configuration

User provisioning & setup

Initial administrative setup

Mobile & desktop client access and synchronization

Various options for Blackberry, iPhone, Windows mobile, Android
G Suite Customization

Dual-delivery & split-delivery mail routing

Calendar coexistence with MS Exchange

Advanced System Integration and Deployment Services

Change Management